The Goalie Pad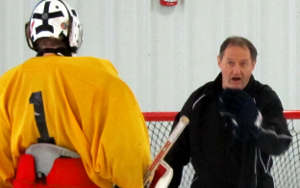 Attention
Southdale Arena will not have a mini pad for lessons this season so there are no lesson times available for booking. We expect this to be temporary, and hope to be back in the space for next year!
Welcome
Welcome to The Goalie Pad, a private and semi-private goaltender training facility located at the South Dale arena in Winnipeg, Manitoba. The Goalie Pad facility offers a unique, personalized approach to goaltender training by having students work in a private or semi-private environment.
For the past twenty five years, former NHL goaltender Rick St. Croix has offered internationally renowned public goaltending schools through the Rick St. Croix School of Goaltending and felt that the introduction of private lessons was a natural evolution in the science of goaltender training.
"We are absolutely thrilled with the results so far" says Rick. "Since opening in August, 2006, the Goalie Pad has been the center of many hundreds of hours of instruction with excellent response from our students and their parents".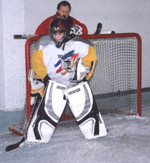 In fact, Rick, who currently coaches the goalies at many levels such as the Western Hockey League, the American Hockey League and the National Hockey League feels that today's goalies are well trained and better prepared to become the best version of themselves. The problem that arises is the tendency to become too robotic so staying creative, spontaneous and letting your athleticism shine through is still needed as part of every goaltender's game.
Our off ice training will focus of your eye skills. Tracking the puck, hand eye skills, quickness and cardio training will be emphasized through the use the Fit Light Training system. You can check out video on this exciting program by clicking here.
Goaltenders need affirmation that the skills they are developing will serve them well in becoming the best version of themselves. Let's go for it!
Testimonials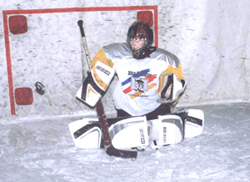 Here is what our students (and parents) are saying about the Goalie Pad.
"This has been the best hockey experience we have had in 5 years of organized hockey. I can't believe the exceptional progress my son has made, and more importantly how much my son enjoys attending your goalie school. I mean this is practice and he is excited to go! Your staff with their background is excellent and in touch with the players and the position. I would recommend the school to any aspiring goalie. Rick, we can't thank you enough for the skill and confidence you have instilled in our son, and for helping him love the game!"

- J. Ramtino, Wpg

"Ty had a private session with Dale Baydock and Casey Guenther. I want to pass along Ty's and my thanks to Dale and Casey for their work with Ty. At the start of the session they identified areas that required extra work and by the time the session was over Ty had improved tenfold over from where he had started. This was Ty's fourth private session. Ty very much enjoys these sessions and they have proven invaluable in the improvement of his goaltending skills. We will be continuing with these sessions! Thanks"

- B. Edmonds, Wpg

"Our sessions at the GoaliePad were simply superb - they allowed our two 'tenders to work on their technique in a small group setting that combined a great workout with an intense learning experience."

- Jonathan Scarth/Bill Ladyman, Wpg.

"Hi Rick,Just wanted to say Thank you for your time you spent with Eric Lovering from Kenora in January of 2007. He had 3 lessons very close together. We have noticed a big improvement in his skills since those lessons and Eric had lots of fun learning. We also were impressed with the young instructor who helped Eric with his second lesson but we can't remember his name. Once again Thanks so much for all your help and teaching! Eric will definetly be back!"

- Vicki Barnes, Kenora